We're starting the fall with an update!
We're starting the fall with an update! When you update, you'll have access to 8 goal categories and over 100 ready to use goal templates.
Whenever you create a new goal in Goalify, you'll have the option to create a goal from scratch, or you can select from one of the  goal templates. All of the goal templates  and categories have their own icons to make it even easier to find just what you're looking for.
This Goalify update provides you with the following goal categories:
Sports
Productivity
Health & Food
Lifestyle
Routine
Education
Creativity
Household
You can always change a goal template to meet your specific needs, for example you might want to change the units used or the frequency. Additionally, in the latest version you'll find a selection of Goalify challenges: it only takes a click to accept a challenge, then you'll be able to compare your progress with other Goalify users. We'll be updating the challenges regularly so you're sure to find something new to try!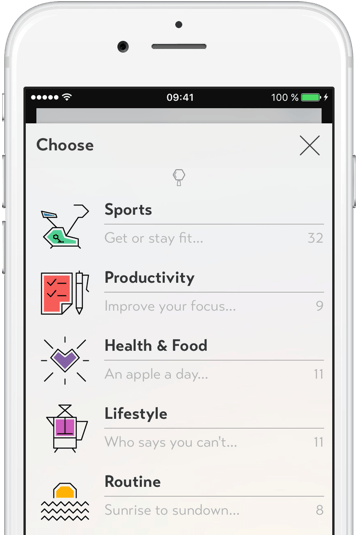 Stay tuned – you can count on us to provide you with even more goals, categories and challenges in the future!
We've also expanded the integrated help functionality of Goalify. Select "Help" in the menu and you'll find answers to many frequently asked questions about how to make the best use of Goalify. It has been our feature of the month October - read more in this article.
How do you like the new update? We really love when users take the time to rate Goalify in the app store. Do you think that a category is missing, or do you have a goal idea for us? Send your suggestions to me at hello@goalifyapp.com – maybe your idea will even be included in the next version of Goalify! It would be great to hear from you!
Keep at it!
Clara & Goalify-Team