Adventures, Expeditions and Goals: A Chat with Laura Bingham
Adventures, Expeditions and Goals: Laura Bingham is a British adventurer, having travelled extensively in her early adulthood, Laura, who speaks fluent Spanish, ditched conventional English life to live in Mexico teaching English and helping a jaguar conservation project for the Mexican government. In 2014 she make the bold decision to attempt to sail across the Atlantic Ocean. With zero experience she blagged her way onto a 38ft trimaran, alongside two sea-faring blokes and a cat called Cuba. The passage took two months, with an enforced week stop-over in the Azores because of dangerous weather conditions (had the boat been caught in the heart of the storm it would almost certainly have been destroyed). In 2016 she set off to attempt to cross an entire continent without any money – completely human-powered. Laura is raising both money and awareness for Operation South America, a charity that looks after homeless or abused girls and young women in Paraguay. She hopes that by travelling with no money she can begin to catch a small glimpse of a life without financial or social stability.
What motivated you to explore the world at such a young age?
In short, family difficulty. I went through a bit of a tough time personally and if I stayed in England I would have ended up on a bad path so the only other option was to leave the UK in search of happiness in healthier things. Four years worth of traveling and I realised what it was that really made me happy. Travelling and adventures. It only took 8 different countries, sailing the Atlantic and 5 job changes to figure that out!
There is always a way, always, you just have to be persistent enough to figure it out.
What was the most important lesson you've learned in your adventures?
To listen to my gut.


To travel and really experience a country you need to throw yourself into it, talk to all the locals, don't be afraid of changing your plans but within that, its so important to listen to your gut. If something or someone doesn't quite feel right, leave, there and then! The only times that Ive ever been in trouble or in a situation is when I didn't listen to my gut, when I thought 'maybe it will be ok, and ill just stay'
If in doubt - get out.
Where do you find inspiration for new adventures and expeditions?
The internet haha!
What is the biggest challenge about taking on new adventures?
Convincing everyone around you that you're not foolish, you have thought it through and you aren't going to die. It never happens, so I usually give up trying to convince them after a while. The next challenge is sponsorship! And trying to locate the money you need to accomplish the goal. This one is a back breaking, hair pulling nightmare.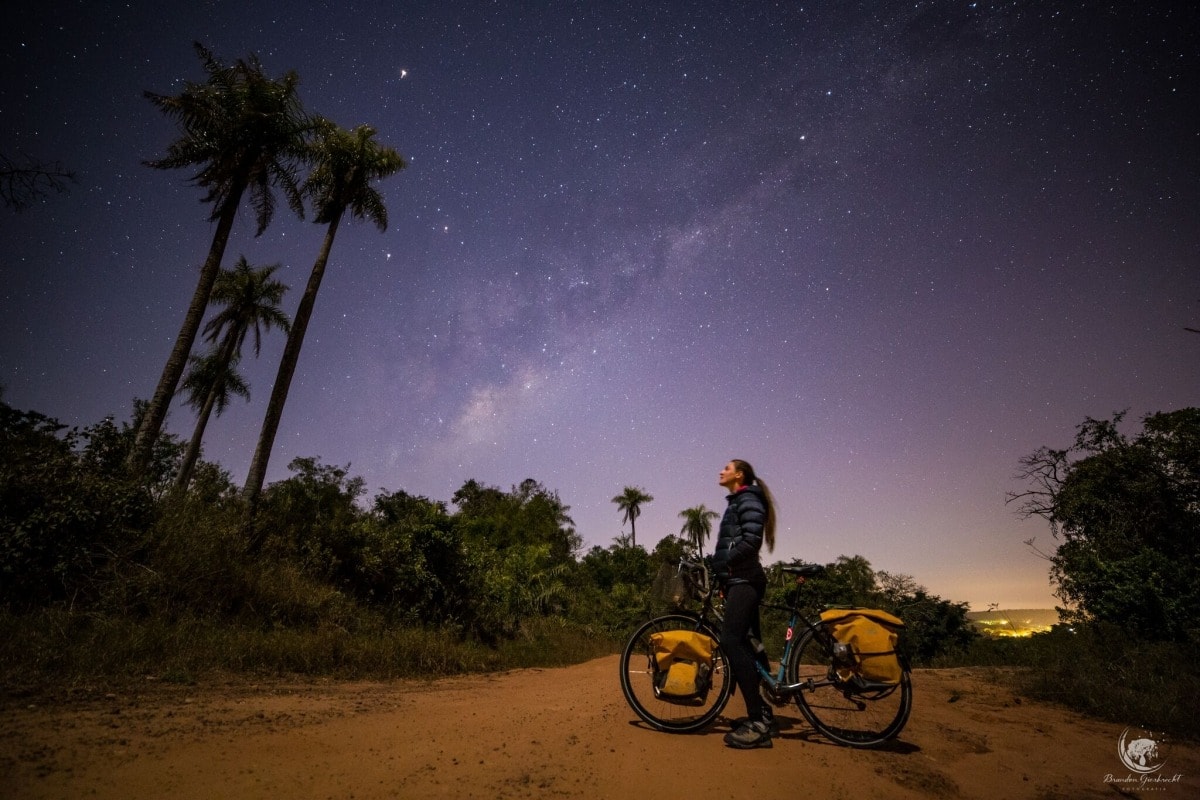 How important are goals for you?
They are one of my biggest driving forces in life! I have a dream wall at home, which has my name in the middle and lots of little bubbles coming off detailing all the things I want in life, adventure and career wise. I also have a bucket list of 87 things of things I want to accomplish in my life, points range from 'step foot on all seven continents' to 'be a kind and fair person' to 'make someone elses' dream come true'.
There is something in me that wont let me stop. When I've got an idea in my head, I have to do it.
Have you experienced moments of discouragement? Why did you keep going?
I have experience moments of discouragement many times. From the moment you have an expedition idea and tell someone, the roller coaster begins: The roller coaster of self-doubt, doubt and concern from other people, logistical and financial problems and constant rejection from possible sponsors. Then you get to the start line, where the roller coaster of self-doubt starts again as well as the physical stress. This whole roller coaster is constant until the day you finish the expedition. Upon that day someone asks 'So what's next?' and in our head we say 'Is what I've just done not enough?'.
Why did I keep going? Because there is something in me that wont let me stop. I'm a stubborn little monkey so when I've got an idea in my head and I've said I'm going to do something, I have to do it. And there is always a way, always, you just have to be persistent enough to figure it out.
What are your next projects?
I think the baby will keep me busy for a little while! (Our son is due June 10th) but I have a few ideas for after. Each idea has its restrictions so it's about seeing which restriction lets up first.