Best of Our Motivational Quotes in 2016
2016 is slowly drawing to a close – a year full of motivation, inspiration and challenges. Here's a look back at our favorite motivational quotes. They're things that various people have said that remind us to stick with it, to remain strong in the face of difficulties and to stay motivated.
I am motivated by encouraging people to get outside and try to see things from a different perspective
(Laura Kennington)
Everything takes a little time. Train, have fun and sometimes it is ok to be patient.
(Cory DeMeyers)
There are no barriers except the ones in your mind. Dream big and you will make it!
(Adam Walker)
When a person believes in you, when they say you can do it, new doors will open for you.
(Estrella Navarro)
The most valuable lessons are learned in hard situations. They help navigate through the world in a more fulfilling way.
(Jody MacDonald)
Be patient and take it slow. You have to be consistent and set a goal.
(Emma Coburn)
The more you try, the more you will succed in everything you set out to do.
(Diana Lopez)
You only grow as a human being if you're outside your comfort zone.
(Scott Jurek)
We just need to explore our abilities and should not be afraid of failing.
(Chrissie Wellington)
Wake up everyday and be like: How can I be my best today?
(Mikaela Shiffrin)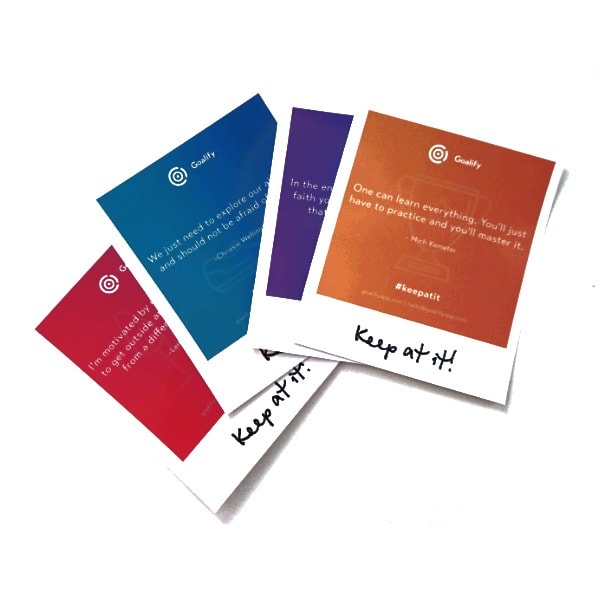 Win our Motivation Box: To help you stick with it, we'll be drawing two users who will each receive one of our boxes of motivational quotes as postcards. You can give them as gifts, you can post them on your bulletin board or refrigerator – wherever you might need a little inspiration! Just leave a comment on our blog or below this post. The drawing for the Goalify Motivation Box will take place on 4 January 2017.