How to Manifest Your Dreams and Goals
We all have some dreams and goals! Some of your dreams are big and some of them are small, but one thing is for certain: You should go for all off them. Here are a few simple things you can do so that your dreams don't just remain dreams:
Believe in yourself
All too often we burden ourselves with self-doubt, or we think that we're just not up for some activity. In the end, making your dreams a reality and reaching your goals means that you have to believe in yourself. Know that your skills and strengths can carry you through. It's a fact that you've already accomplished much…you've mastered some difficulties in your lifetime. Try to see the the many opportunities that life has to offer, and accept that if you're not going to believe in yourself, then it's unlikely that anyone else will. This requires taking a closer look at the real you, and that leads us to the next point.
Figure out what you like to do, then get better at it
It frequently happens that people forget their dreams and goals. If you would like to realize your goals and make your dreams come true, then you have to find out more about yourself beforehand: Who are you really? What can you do well? What potential is waiting inside you? It starts with knowing about your strengths and weaknesses. Improve on what you can, and praise yourself for what's good about you. The better you know yourself, the more secure you'll feel. Good things will come into your life more easily. Before you can get going and move forward, you have to understand your current reality.
Know that your dream is possible
You also have to wholeheartedly believe that it is possible to reach your goal…we're talking about 100% here! Know that you have set a realistic goal for yourself, and don't let any doubts enter your mind. Really think about it before you get started, and pause for reflection when you need to, but always keep in mind that second-guessing yourself is counterproductive in the end. Be sure that you can accomplish what you want to do, then take action to make it happen.
Write your dreams and goals down
It simply cannot be said often enough: Writing down what you want to work on and recording the progress you make can be incredibly helpful. Writing down your goals increases the likelihood that you'll also reach whatever you set out to do. Additionally, writing down a goal forces you to formulate your desired outcome in a concrete way so that you're more engaged with your intentions. This also makes it easier to keep your priorities straight. What you're doing is sending a signal to your subconscious mind to keep you moving in the right directions while upping your level of determination surrounding your goal or dream. If you'd like some help with this, give our Goalify Goal Sheet  a try! You can download it here: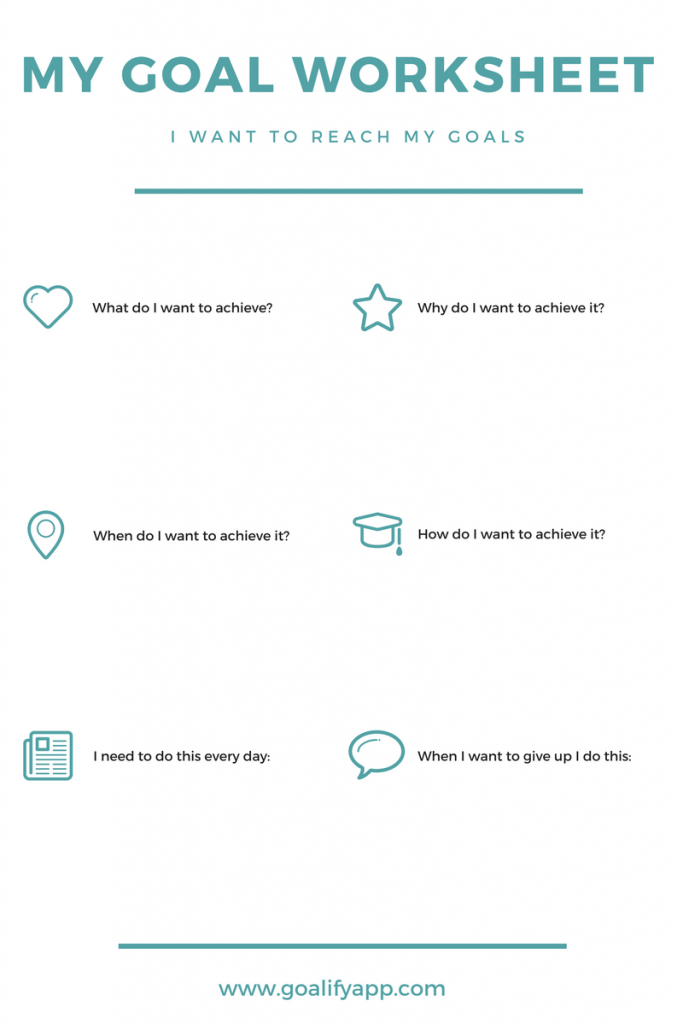 Stay focused
It's also essential to stay focused as you move toward your goal. Of course you'll likely encounter obstacles while working on a goal. It happens to all of us. Your success depends on how you go about handling any possible hurdles that might arise. Don't allow yourself to be derailed by difficulties; instead, stay focused and keeping taking steps toward your goal. Be thankful for the challenges that you encounter – we often learn the most from difficult situations. In this series of interviews, some well-known personalities talk about how they achieved their goals and offer tips for overcoming obstacles.
Change your perspective
If you run into hurdles or you start to doubt that reaching your dreams and goals is even possible, then try shifting your point of view. It can often help just to go for a short walk, or you could go hiking if you want – simply spending some time in nature, taking a few deep breaths and getting some distance from your everyday life. If you look at things from a different perspective, it can help you to find new solutions and thus gain clarity in manifesting your dreams and goals. You can see a little light in any situation you're in if you just look for it. Often it simply comes down to how we are looking at things and what we are focusing on.
Go for it!
Avoid overthinking your dreams and goals and do something instead. Taking action sounds simple enough, but it can actually be extremely difficult. In a way, our culture encourages a lot of consideration before moving forward…so much so that often no action is ever taken. If your aim is to manifest your goals, then such inaction is naturally going to be problematic! So just get moving, take that first step and be happy about what you did. Now you're actually doing what you can to reach your goals and dreams!
What tips do you have for us in terms of how you can best manifest your dreams and goals? Write to us at hello@goalifyapp.com.