Interview with Kayak Champion Uschi Profanter
Uschi Profanter is a former pro kayaker who has achieved many great things during her career in whitewater sport – among them, this Austrian was four-time kayak world champion. Today she is active as a fitness trainer for people with disabilities, a children's sports instructor as part of the Hopsi Hopper campaign, and a kayak and ski touring guide. We had the chance to ask her a few questions about her goals, motivation and experiences as a professional athlete.
How did you discover your passion for kayaking?
Kayaking is the kind of sport that you really need someone to help you when you are just starting out. That means either one of your parents supports you, or you can join a club if there's one in the area. I come from a very athletic family: my mother climbed a lot…and one day my father just had the idea to start with kayak.
That meant that we often went to the sea on vacation and paddled around. The first time I paddled a kayak I was four years old – then when I was 12 I started with whitewater kayaking. Children pick things up quickly, and I learned to paddle mostly by playing around with it. So my family was responsible for my first contact with the sport of kayaking.
If one really wants something and takes action, one can do anything.
When did you decide to make your hobby into a vocation?
Actually, I didn't want to do any competitions because I was involve in many different sports and I didn't want to specialize in just one of them. My first big kayaking challenge was a competition in the Imster Schlucht, a popular rafting area in the south of Austria . That wasn't easy for me, but I did it anyway and I made it to the finish. It was crazy how much fun I had! After that I joined a kayak club in Graz, the same club the former whitewater world champion Gerhard Peinhaupt trained with. I gained so much from that experience and I improved very quickly – this was also because I was already in good shape in general.
When I was 18, I became the women's junior world champion. That fueled my ambition, and I knew right away that I want to be the world champion. I wanted to be a professional kayaker and I was going to make that happen. I did a few side jobs before I was able to make a living from this marginal of sport. When I was 24, I was the kayaking world champion in the women's open class. My next goal was the Olympic games: that was a huge challenge for me and something completely different – because whitewater kayaking is not an olympic discipline, just open water, and that was something entirely new for me. I was an outsider because I more or less appeared out of nowhere so I wasn't taken very seriously, but I pushed through anyway.
I had an alternate place for the Olympics in Barcelona; there I made it into the finals and I ended up taking fifth place…a second behind the Olympic champion. I qualified two more times for the Olympic games: actually it was my goal to win an Olympic medal, but as a whitewater kayaker I was lacking the last little piece to make that happen.
How important are goals for you?
Goals are necessary, not only in sport but everywhere in life. One has to set goals for oneself – whether large or small. If one really wants something and takes action, one can do anything.
During training, I used visualization and imagined what victory would be like, first as the junior world champion. Then is visualized winning the championship; both times when I won, it was just as I'd imagined it. I made the idea of winning a firm reality in my mind first.
I believe in myself, and part of that is always knowing that I will find a solution.
Were there moments in which you almost gave up? What made you stick with it?
For me, obstacles are things that one has to take on and resolve. Nothing would ever stand in my way – anyone who knows me knows that. I believe that there is nothing that one cannot make happen or somehow improve on. I always think to myself: it has to work – I will just plan it out and make it happen. That's one of my general attitudes toward life. I believe in myself, and part of that is always knowing that I will find a solution.
You work with children and teenagers – what is the most important thing in motivating young people? What are their special needs?
After I stepped away from competitive sport in 2003, I wanted to motivate and inspire other people to kayak. That's why I started to work with children and teens, and it was really a lot of fun for me. I thing one should think about what one passes on to the next generation. Anything that is presented with a lot of enthusiasm is more readily accept by young people. You also learn to truly be yourself because children can see through any lack of authenticity. In the end, my philosophy involves teaching children through play so they have fun in the kayak, and not drilling techniques into them.
You organize ski tours and other trips that help people to reach goals that they have set for themselves. What advice do you give the people on your trips? What's different about motivating?
Adults and children move toward goals in very differing ways. Children have a different approach to learning – they are neutral and don't think about what might happen. With kayaking, adults are rarely easygoing about it; in general they're more afraid. Children just jump in and go. As for my trips, I'm always overflowing with excitement about whatever we're doing, and that brings out the enthusiasm in the whole group – then it's all about fun. I support them as much as possible, and I try to motivate everyone to reach new heights. Not too much thinking about it, instead imagining that things will come easily. That's how I encourage adults. One doesn't have to talk so much with children – you just have to show them.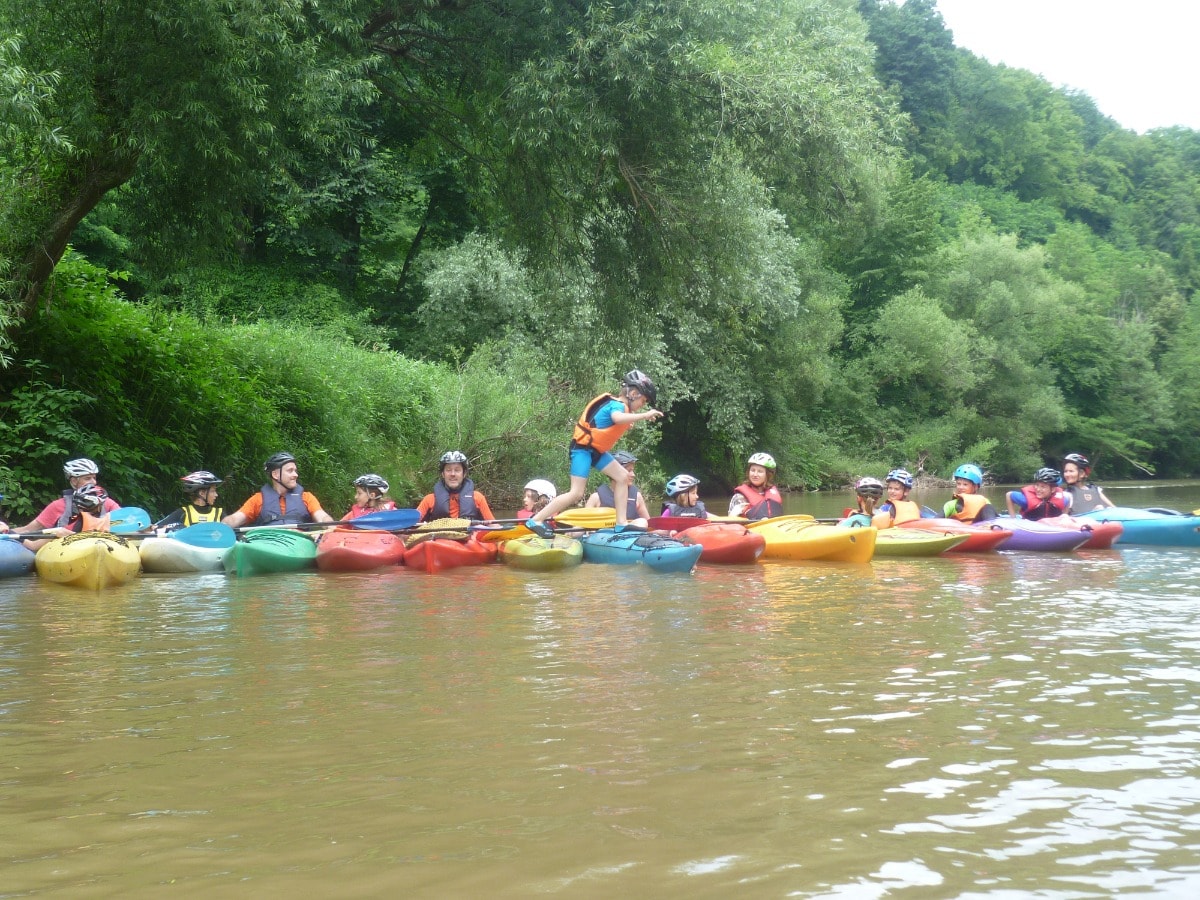 What experiences could you draw from your time as a professional athlete?
Many people are more willing to talk with me because they know that I was a professional athlete. My advice to most of them is that one should not approach things so stubbornly. Relax more. The day when you are pushing to make it to the top is a difficult day indeed because you've likely never achieved so much before. Here I give people the same advice: imagine that you are standing on the summit and looking down. I always think of the feeling that I have when I've reached a goal or experienced some kind of success. If you want to reach a goal, first you have to have a concrete idea of what success would look like. That's the first step. Then you have to be tenacious and go after it is, and not give up the first time the going gets tough. Obstacles are there to be overcome.
I would also like to pass that idea on to my son – one result of this is that over time he's become very independent. I would like to intentionally give him the idea that he can resolve things on his own and plan things out for himself. Everyone can do that – you can even count on children in this regard. When it come to kayaking, I would also like to give the children I work with a sense of personal responsibility: they have to empty the kayaks themselves and put them away. They all have to work together to carry the boats – it's a learning process. As a parent, you have to give children the opportunity to learn personal responsibility.
Obstacles are there to be overcome.
You are also involved in some charitable projects – what motivates you?
I find that everyone who has the chance should also give something back to the the community. It's easier if one has a well-known name. One of the things I'm involved in is nature conservation. Working together with the WWF, we prevented the construction of a power station on the Sulm, a river in Austria. Last year I organized a red nose kayak trip along the Mur, another Austrian river. A lot of people showed up with air mattresses or inflatable boats. Supporting such activities is always a good idea. Everyone can make a small contribution, even without investing a lot. In the end though, amazing things can happen.
What new challenges are you involved in yourself?
This year I did a kayak course on the Sulm for the general public, and that went really well. That was another new thing for me. I'm always on the lookout for new things that I would like to try out. One example is ski touring in Norway – the route starts out on the coast. I always remain open and curious about new challenges that come my way.
More Links:
Website of Uschi Profanter:
Kayak- and Skitours with Uschi Profanter
Foto Copyrights by Uschi Profanter