Florian Sitzmann: Wheelchair Athlete, World Champion and Author
Florian Sitzmann is a German wheelchair athlete and author. He is well known for his success as a handcyclist at the Paralympics as well as in other international competitions.
Tell me something about your background!
How's the best way to begin? Naturally I have to start with the accident, because that's what derailed me from my life as a student and put me on another path. It was in 1992. Actually I wanted to go into some kind of skilled trade after high school, something like finish carpentry, because I have a creative streak and I'm good with my hands.
Then the accident happened: I was in Holland with a friend, and we were travelling around on a motorcycle – actually I was going to meet a girl there who I'd gotten to know beforehand. She wasn't there though, and so we drank and had some fun instead. The next day we were on the way back home, but we totally overslept and the weather was bad. We climbed on the motorcycle and were on the road late into the night. Just before getting back we were really tired and we stopped to fill up the tank; we were exhausted and we just wanted to get home as soon as we could. We headed onto the autobahn – as it had been raining, visibility was bad – my friend drove too far to the left and didn't notice that a big truck was coming from behind us. The motorcycle flipped over and I fell directly under the truck, which then ran over my legs twice. I was still awake for a long time on the highway and I couldn't stand up. After 45 minutes I lost consciousness, and the helicopter took me to the nearest clinic where my legs were amputated.
Then there was a real hospital odyssey, which was very difficult and painful, and next rehabilitation – the darkest chapter of my life. I was very fit and energetic, but still I couldn't learn anything there. Actually I wanted to learn to use a wheelchair, because it takes quite a long time learn how.
I had to learn everything new again, and the world was kind of reset to zero. The most difficult thing for me though was our society: whenever I decided to go out, I was talked about and stared at. Now that's not a problem for me, but at the start it was really hard for me. I made it through that time with a lot of humor and a good amount of making light of myself.
By keeping at it, there's a realistic chance that you will also reach your goal.
What encouraged you to keep going?
The lifesaver for me was that I always kept my perspective and had a goal in mind. You need something tangible that you can aim for. Maybe you want to feel better, or get your body into better shape – it doesn't matter what – the main thing is that it makes you happy. I do a lot of things and I often think: too bad that my life isn't long enough for me to do the many things that I'd like, and for the many ideas that I have.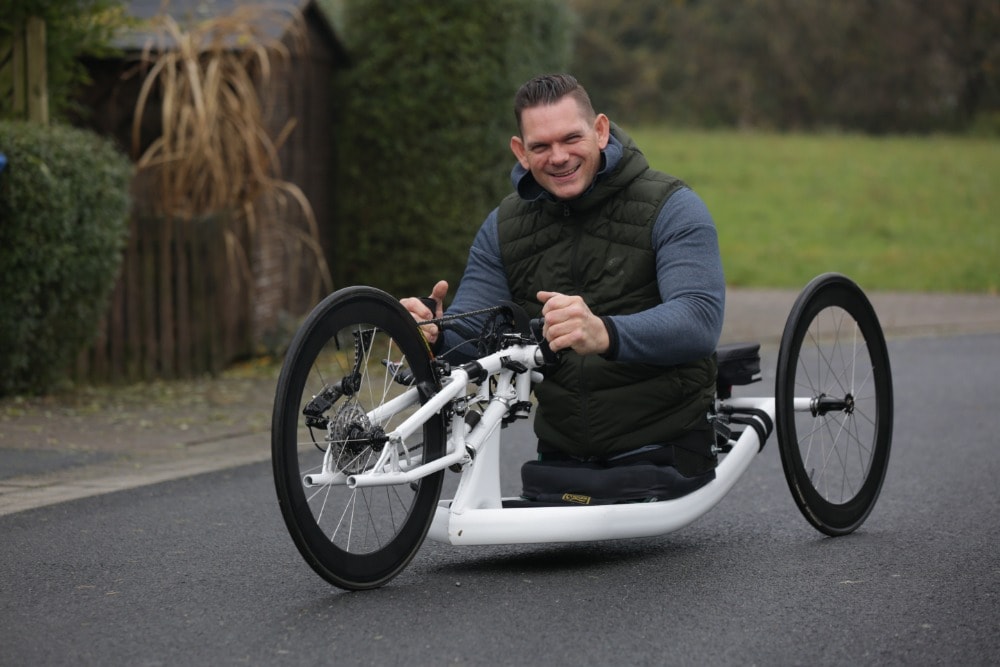 What happened for you next?
 I tried out several professions: I completed training in office administration, I worked for an art project, I worked in a nightclub, and I worked as a press spokesperson for the "Schlossgrabenfest" music festival. This lead to my having many interesting experiences.
Then at some point I started to write books and to organize presentations where I deal with everyday funny stories, things that happened to me, and make people laugh. The goal is to create a kind of film in the minds of the people who read what I write or hear me speak. The best thing about it is that there are always new stories, or I rediscover stories.
At some point I became self-employed as an author, I did podium discussions, TV shows and everything I could. In between I also participated in endurance sports, which was very important for me. Early in my 20s I was a pretty wild guy – I had to get rid of my energy somehow and sport was very helpful. I was successful with the hand bike internationally, then I won a few medals and I was the German champion and second in the world. I also set distance records, for example once over the distance of a marathon and later a longer distance. That one was 540 kilometres, which I did all at once when I rode to Norway – so 30.5 hours that I was travelling nonstop. I would not do it again like that.
It was my goal at the time to set a world record, one that as far as I know has not been broken until now. I prepared myself for that for a year, and I didn't do anything else. It was actually a traditional bicycle race and I was the first hand biker to cross the finish line. I ended up in about 1100th place overall, which is very good in comparison as the other people were riding normal bicycles.
I really like to tell that story because it's about motivation, and it contains a lot of feeling that I would like to pass on to others.
How did you keep going?
 There are two reasons: participating in the Olympics was a big disappointment. Actually I could have been able to win silver there, but unfortunately my hand bike broke down during the race. That was the deepest motivational low point I have ever experienced, because I prepared myself very well and I invested everything. I didn't do anything for a year after that, until in the end I wanted to do this race in Norway in order to rehabilitate myself. I wanted to prove to myself that I could do it.
The second reason was that at the time, in a few months the children's project with Xavier Naidoo was starting, and I collected sponsorship money for the race that I matched in donations to the project. I stuck with it because it's such an exciting project, one that has to do with the idea of inclusion, which is so important for me. I would like to pass on the idea to children that sticking with things is important. By keeping at it, there's a realistic chance that you will also reach your goal.
Once you've reached an interim goal, you got to have a positive experience and so you go on.
How important are goals for you?
If you don't have goals, then you can just stop whatever you're doing. If you don't start the day with some goal that you want to get done before you fall into bed, it's going to be difficult.
You need something to work on that more or less automatically sets up goals for you. The task naturally depends on what kind of difference you want to make in society. Goals are immensely important, otherwise you don't move forward. You need short-term, medium-term and long-term goals because goals are really at the heart of being alive. Once you've reached an interim goal, you got to have a positive experience and so you go on.
I don't think that one can achieve anything, whatever it is for you, but I do think that one can truly grow as a person. I think you also need a certain level of talent – clearly sticking with things is the most important skill, and it's one you can work on regardless what you're doing. Still personal limits do exist. One can achieve a lot, but that doesn't mean always achieving everything. If you can envisage yourself doing or being something, you can certainly move in that direction.
What are your personal goals?
My goal is to give even better presentations and to increase the number of people who attend. All in all, I would also like to do fewer events so that the quality likewise remains high. After a presentation I always need time to fill up my tank – I cannot give talks five times a week, because then I just wouldn't enjoy the whole thing anymore.
Do you have any concluding motivational tips?
It's important to recognize that you are the only one who can change something in your life. People tend to moan about that, which is something that I myself cannot take much of. You can't let yourself complain about something so long as you haven't tried everything to change it. Especially in Europe, in Germany most of all, we have so many possibilities and a good social support system in place. You have to realize what you've got inside you and what chances you have, and you have to develop consistency and discipline. If you would like to achieve something, you simply have to stick with it and be consistent.
Thanks a lot for the inspirational talk!