Interview with Laura Kennington
Laura Kennington is an adventurer, endurance athlete and personal trainer. In May 2016 she created her own triathlon, namely the Channel Island Triathlon. In this interview she explains her passion for challenges, why she loves setting goals and where she gets the necessary inspiration for her adventures.
How did you find your passion for endurance adventures?
I became qualified as a personal trainer as a flexible way of earning money in between other things and this understanding of how the body works unleashed my curiosity. It helped me understand that the body adapts to the environment and we chose our environment – I decided to change mine!
How did you prepare for your Channel Island Triathlon? How did you come up with the idea?
Breaking things down into manageable steps makes it all a lot less daunting!
Swimming was always the biggest challenge for me – I was totally new to the sport so most of my training was focused on improving my technique and building up acclimatization in cold water, etc. This meant I was swimming in a very cold lake at least twice a week! In between long swimming sessions, I focused on strength work in the gym to avoid injury.
The idea came almost by mistake – I was investigating islands I could circumnavigate in my kayak as a fun mini challenge. As soon as I realized how close together the Channel Islands are, it just seemed logical to make the mini challenge a little bit bigger while I was there!
Being a personal trainer as well - what is the most important advice you want to give the people you train?
Just keep at it and you'll be amazed at what you can do when you stick with something.
Perseverance. There are always moments when things can be really tough and progress can feel incredibly slow - but just keep at it and you'll be amazed at what you can do when you stick with something.
Was there a moment, where you nearly gave up but you decided to keep going? If so, why did you keep at it?
During hour 3 of the swim I started to feel incredibly sick as a result of ingesting a little too much salt water. This nausea combined with general fatigue and the friction of the wetsuit rubbing painfully into my neck made the final stretch of the swim really tough. Even with the finish point in sight, it seemed like an impossible task. Luckily, I was surrounded by strong supporters who cheered me on and reminded me that moments like these – when you feel like giving up – are when you need to dig a little deeper. I kept going because I knew it couldn't last forever and if I just focused on those final few swimming strokes I'd eventually reach the other side!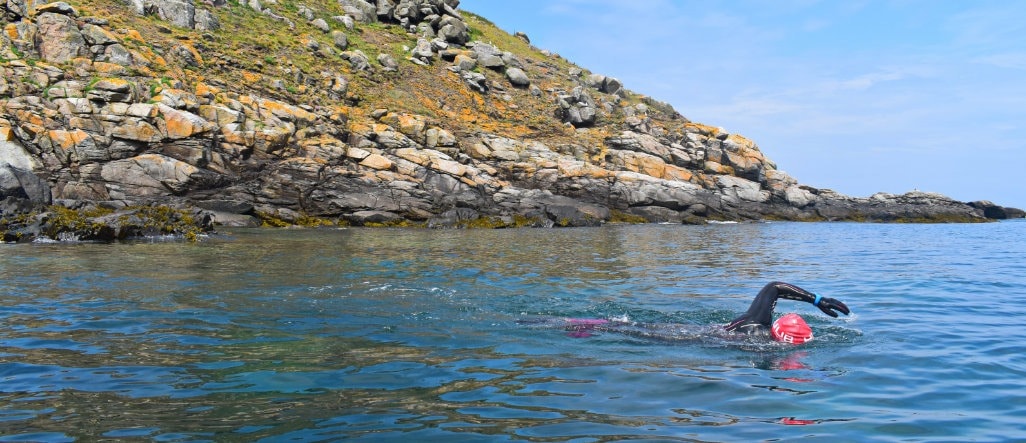 What is the most important thing that you've learnt from your adventures?
That we are all capable of so much more than we think, if only we try. Adventures have also taught me that most people are incredibly kind and this world is a beautiful place – don't listen to the negative headlines!
What about having goals? Is having goals important for you? How do you keep at your goal?
Absolutely. Without a goal to focus on, it's really hard to stay motivated. I also find it really important to have smaller goals and to celebrate all the smaller milestones along the way – breaking things down into manageable steps makes it all a lot less daunting and also a lot more fun!
Where do you get your inspiration for your next adventures?
I look for 2 main things when choosing adventures – a new location and a fresh challenge. That way I get to explore somewhere I'm excited to visit and I also have to stretch myself to achieve the physical goal, too.
Can you tell us a little bit about your next adventures?
I'm afraid they're top secret for now…!
Thank you for this interesting interview!
Check Laura's website and follow her on Instagram or Twitter!
Picture Credits:
Cover: Richard Murgatroyd
Swim Foto: Ben Arthur