Looking Beyond Boundaries: Freerunning with Pam Forster
Pamela Forster is an international well known freerunner from Austria. We asked her about her goals, her motivation and challenges, she is facing.
How did you discover your passion for freerunning?
I used to be an artistic gymnast: I started doing gymnastics with a club when I was 9 years old. When I was 18, I stopped doing that kind of gymnastics and switched to something more performance-oriented, and I also started studying sports science. As part of the sports science program, I took a class called "Freestyle Moves" in which we leapt onto different kinds of platforms. That course inspired my interest in sports to move in a new direction – that was actually my introduction to free running.
You should look beyond set boundaries in order to not allow yourself to be too limited.
 What was the most important lesson that you've taken away from freerunning?
 I have learned so many things from this sport as I've been doing it now for almost 10 years. One thing that I've become even more aware of is to think outside the box more often. There are a lot of established rules and boundaries that can hem you in. In the end, you have to establish your own boundaries, look beyond prescribed guidelines and see at if all those things work for you as an individual. Naturally rules do offer a certain level of safety, but they can also be very limiting. For me, the lesson that I learned through freerunning is that you should look beyond set boundaries in order to not allow yourself to be too limited. I prefer to set my own limits.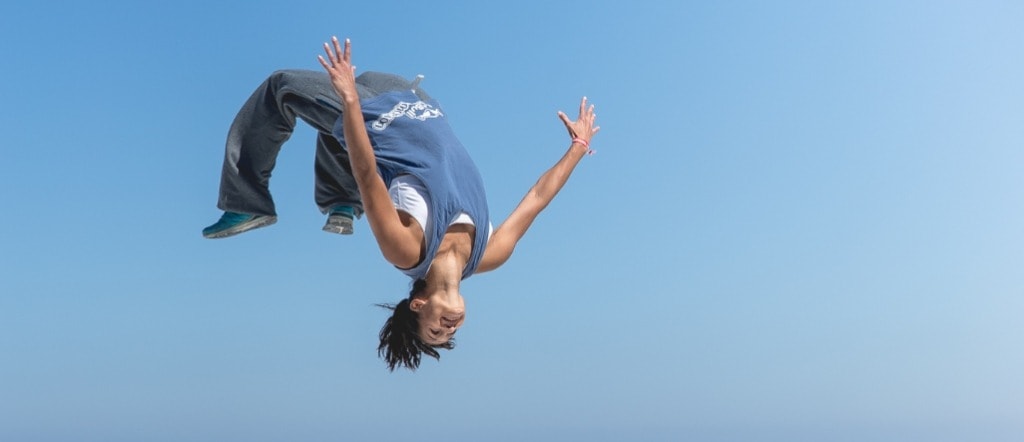 What is the biggest challenge for you?
 The greatest challenge has two sides. The first is staying patient and allowing yourself to recover when you're ill. It's about saying "okay – right now I cannot train and I am not allowed to train". Holding back when one has an injury is something that's pretty difficult for most athletes. The second big challenge for me, a question that I have to ask myself, is how long it will be possible for me to keep doing this sport. I know very few women my age who are free runners. I have to take care of my body and listen to what's going on in order to know how long I can do it. As long as my body is functioning well, I'll continue to pursue this kind of moving art.
Setbacks go along with success. One has to go through problems and then handle them.
How do you deal with setbacks or "slumps", or doesn't that happen to you?
 Setbacks go along with success. One has to go through problems and then handle them. In the end you usually become stronger, and in retrospect there's also even more motivation. When you experience one failure after another, you have to struggle with yourself and not give up. You're only beaten when you give up, so you should not let yourself be beaten down. Sure, one should try to avoid too many defeats, but you cannot avoid them entirely.
What do you think of tools, apps or other motivational techniques that are used to keep you consistent in working on your goals?
 I find watching other people on Instagram to be very inspiring, people who are doing similar things and staying fit, offering some diet tips, or rising to new challenges over and over again. That's why I also like to follow other people in order to be more motivated. When I see that someone already went running one week, then I get myself up and go running right away too. I also notice that I also have some impact on other people, and they're motivated by what I do. Naturally you do whatever you're doing for yourself, but nonetheless it is great to inspire other people to stay fit. Inspiring others and being inspired!