Reach Your Goal and Then Set Another Goal: Talking to Christoph Strasser
Reach your goal and then set another goal: Christoph Strasser was born in 1982 in Leoben, a medium-sized town located in the southeastern part of Austria. When young he played soccer, and then at the age of 18 he started cycling. His career successes are many, and he's also set several records. In 2005 he became the youngest person to finish the Race Across the Alps. In the following year he won a number of 24-hour race. Already one year later he established the new Austrian record for distance traveled on a bicycle in 24 hours: 950km, or almost 600 miles. At the age of 25, he became the youngest ultra-distance cycling world champion. In 2011 Strasser followed in the footsteps of Franz Spilaur and Wolfgang Fasching, becoming the third Austrian to win the Race Across America. Moreover, he remains the youngest person to ever win that event. He won the RAAM once again in 2014, and even shaved some time off his own record – in that race, he became the first rider in the history of the RAAM to cover the distance in under eight days.
How did you come up with the idea to start with ultra-distance cycling and extreme riding in general?
It wasn't like I was unsatisfied with my everyday life, and I wasn't looking for a big goal…I didn't need that. Actually it was a small dream I had that grew slowly over time. It was when I just turned 20 and had finished up my civil service. I then began to study at university so I had enough time to train. When you become older and have more responsibilities, it's not so simple anymore. At first it wasn't my goal to win the Race Across America. I was just being active and having fun, and finding balance in life. After getting more into cycling and completing my first 24-hour race, I thought about participating in the RAAM. The RAAM was more or less the largest ultimate cycling race, and all the other races were just there to get you ready for the RAAM. That's how the goal simply grew bigger and bigger. At first I went after smaller goals, and then I always took it another step farther.
When you find something that is fun for you to do, success comes automatically.
What was the timeframe for all of this?
Cycling was only a serious hobby for me between when I started at university in 2001 and finished in 2006 or 2007. I won my first world title in 2007 and I also finished my first 24-hour race. In the same year, I came up with the idea to participate in the RAAM one day. It just didn't work out in 2008 – I had neither a sponsor nor support people. That's when I learned that sometimes things can simply take a little longer than anticipated. I did take part in the RAAM in 2009, but unfortunately I was eliminated due to a illness that affected my lungs. That was really hard for me, and afterwards I was very disappointed. The next year I didn't have so much money, and my faith in myself was low. I doubted myself, something I had yet to overcome. I knew that if I could stay healthy, I could come out on top the second time I did the event. So I found the courage to get some help and hire a professional trainer. He took care of my training, and there were a lot of changes. Before then I was training to much and recovering too little. I became more efficient, and in 2011 I was able to achieve my first RAAM victory! It was only after my first RAAM win that it became clear to me that it was my dream to be able to live from my hobby.
If you do so many extreme things, how do you maintain your drive over such a long period of time? What motivates you to keep going?
There is an art to getting yourself excited about something and then not letting the enthusiasm wane over time. Long-term motivation is difficult – deciding to keep at what you're working on and train every day. It could be compared with a relationship in a way: at the start everyone is wearing rose-colored glasses because it's something new and exciting. Every day things move forward. Then 10 or 15 years later, when that feeling of being in love is maybe be fading, a more mature relationship has to form.
Reach your goal, enjoy it for a little while, and then set another goal!
How do you deal with setbacks?
Looking back, one can always see that setbacks are good for something. Every time that I suffered a setback, it made me think about how important the larger goal actually is to me. It often happens that after experiencing some success, you are less strict with yourself and you slack off. When you talk to mountain climbers, then they all say that without fear you become overconfident. The fear keeps you focused. Every time after a setback, shortly before getting going again, I've felt this fear. I used it to better prepare myself. Often too much success can make you careless.
That brings me to my next question: How do you handle it when you experience success?
Handling success is not an easy thing. Many people think that after putting in the hard work and reaching a goal, everything is somehow perfect. Really that's the reason that goals are so important – for keeping the overall direction in mind. There is nothing better than when you have the feeling at the end of the day that you have somehow moved closer to your goal. Whenever I reach a goal there is some short-term satisfaction, but I have to be careful that I don't lose the flow of things. One should find a new goal right away to avoid sinking into complacency.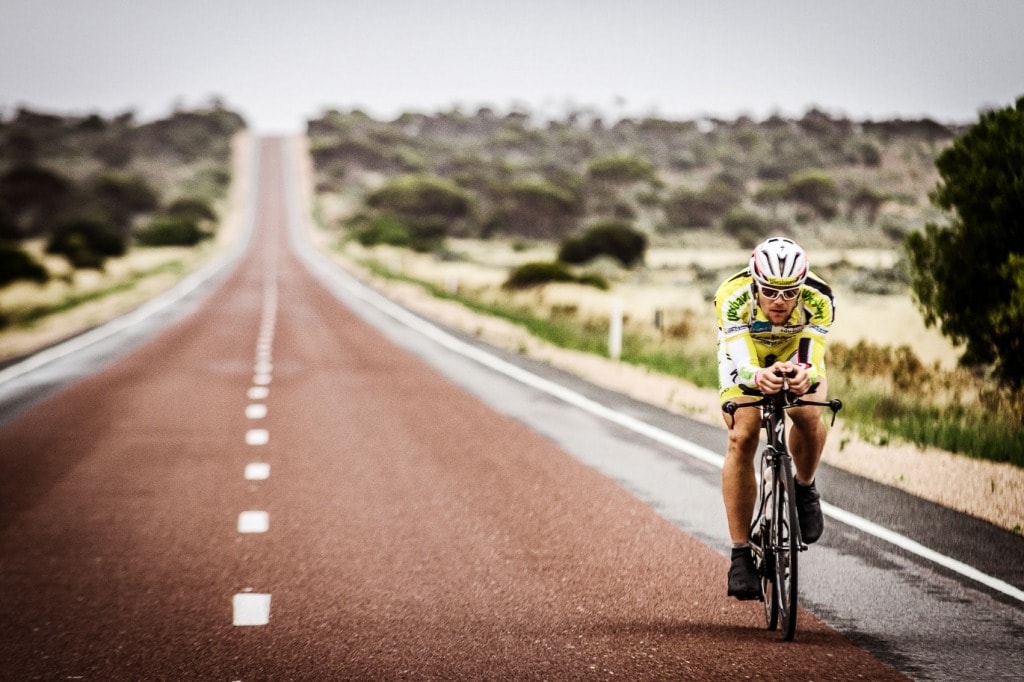 When you become more well-known, it can be easy to feel satisfaction with what you've accomplished. Nonetheless it's important not to get a big head because of what other people are saying about you. I don't feel comfortable in such situations because I never wanted to be famous. I just do what I like to do. When you find something that is fun for you to do, success comes automatically. Reach your goal, enjoy it for a little while, and then set another goal!
What value do goals have for you? How important do you think they are?
The main driver for me is the fun of doing something. If the fun goes away, it would also be difficult for me to reach the goal. Find what is right for you, and then go after it! Often it's the goal itself that provides the motivation. There are also times when goals change. One should not be too proud or stand in the way when this happens. You can try out something new, but that doesn't mean that you have to stick with it until the day you die. For example I stopped studying at the mining university after 11 semesters. Many people told me that I should just finish it as I had already come so far. I knew that I would not have liked working in that field, and there was no reason to finish the program.
You're now a motivational speaker – can you give us one or two tips that you would like to share with the people?
Try to learn to value setbacks. Why? Because there are only setbacks if you are working on something. To make an omelette, you're going to have to break some eggs. If don't reach the goal right away, don't look at is as a personal failure. I'm not saying that one should try to fail, but failure can also be a reliable source of inspiration. Such negative experiences are essential. If I didn't "only" take second place in 2012, I would never have finished the race in eight days the following year. Getting second place motivated me to do it better the next time.
Next year you'd like to bicycle from Sydney to Perth. (comm.: he already successfully finished this race and set up a new world record) How are you getting ready for this goal?
My preparation looks a little different for this adventure. I have never been to Australia, and I'm neither familiar with the weather there nor the vegetation. I'm expecting something completely new. I'm already very familiar with the RAAM, and I know what I have to pay attention to. For the RAAM, now it's just about optimizing specific things. Sometimes one has to also do something without being 100% prepared for it.
Everyone can do something exceptional if one sees a deeper sense in what one is doing.
In 2011 you looked for a trainer, and you have a team. How does that work, getting help?
In retrospect one would be at a loss if not surrounded by experts. This involves a certain level of trust because one is suddenly no longer the only one responsible for how things go. In the process, one also learns to not only concentrate so much on yourself. Maybe not letting your ego get too big is one of the most important things, along with not being too proud to ask for help. I am still my own boss and that is a plus for me. Having additional people in your network can provide a huge benefit. Part of that is the personal relationships involved, which can only make for a win-win situation.
What are you doing to give back to the community?
That happens behind the scenes. All of the sudden, you get the feeling that the whole thing is not just important for one person, rather other people are also finding inspiration. When one can help out a charity by auctioning off a bicycle, there's an additional sense of purpose. Everyone can do something exceptional if one sees a deeper sense in what one is doing. That's how the motivation stays.
What goals and projects would you like to work on in addition to Australia ?
The 24-hour world record on the track will be set again in October 2017 and I would also like to take part in the RAAM again in June 2017. For the long-term, I would like to continue with what makes me feel good, and I'd like to be a good role model for others.
Visit the website of Christoph Strasser
Fotos by (c) Manuel Hausdorfer