Slacklining and the Power of Focus: Interview with Michael Kemeter
Michael Kemeter, originally from the south of Austria, is a slackliner, climber and motivational coach. Though he's still quite young, he's already set a number world records and taken on some of the most difficult climbing routes. We talked with him about the power of concentration, his many adventures, his passion for slacklining and his goals.
How did you discover your passion for climbing and slacklining?
I found my passion for climbing and slacklining just like so many of the things I do in my life: I had the desire to get to know more about something new. I like to always be working on myself and the first part of that – for me at least – is a sense of inner balance. Over time I started doing more "extreme" activities because I have the odd ability to do things in novel ways. So after a few years of climbing, I added in walking a 2.5cm wide slackline, not on the ground but in the air, maybe over water. Above all I like doing these things in new places all around the globe.
Having big goals means creating and taking care of a lot of smaller intermediate goals. You have to maintain your internal focus.
How do you prepare yourself for an adventure?
I am always in the midst of an adventure! The way I see it, the fundamental secret behind a new adventure is thorough planning before it all begins. Really looking at the first step is a matter of saving time in the end, and it adds to my motivation. That's why it is very important for me to have a clearly defined, specific goal in mind. Also, in the process my perspective regarding setting goals has undergone continuous change and improvement.
What's the source of motivation and inspiration for your new slacklining adventures?
As I already described, my motivation comes from my want to live life more thoroughly and to really experience things, and from a desire to get to know new people and cultures. I want to share experiences, and to live extraordinary moments with others. Leading a life in tune with nature is of course a constant adventure.
What does in mean for you to have goals? Do goals have a lot of importance for you?
Having big goals means creating and taking care of a lot of smaller intermediate goals. It often happens that these don't result in the desired level of success, nonetheless one cannot lose the vision. You have to maintain your internal focus. Part of this is taking the time I need to become better and really make my goals part of who I am. The structure has to be very clear in order to be able to ultimately reach the goal I've set. I have learned so much more about myself from all the failures in my life, and moreover the significance that "goals" have when living an "extreme" life… and also how important goals are in everyday life. Actually, the most important constant in my life is change. The speed of change is always an individual thing, and the outcome also always varies from adventure to adventure.
So you have spent a lot of time in the USA. If you compare your experiences there with your life in Austria, what differences do you see in terms of trying out new things or taking on new adventures? What advantages do the different countries bring to the table?
The thing I most appreciate after every international trip, and moreover after some time America, is the drinking water. Drinking water from the tap and not having a second thought about getting sick from it has not been an issue for people living in Austria for a long time now. I was confronted by that for the first time when I spent some time in America in 2010. It shocked me at first, always having to make sure that the water was clean enough to drink. After a few months you get used to it, but it was still time-consuming.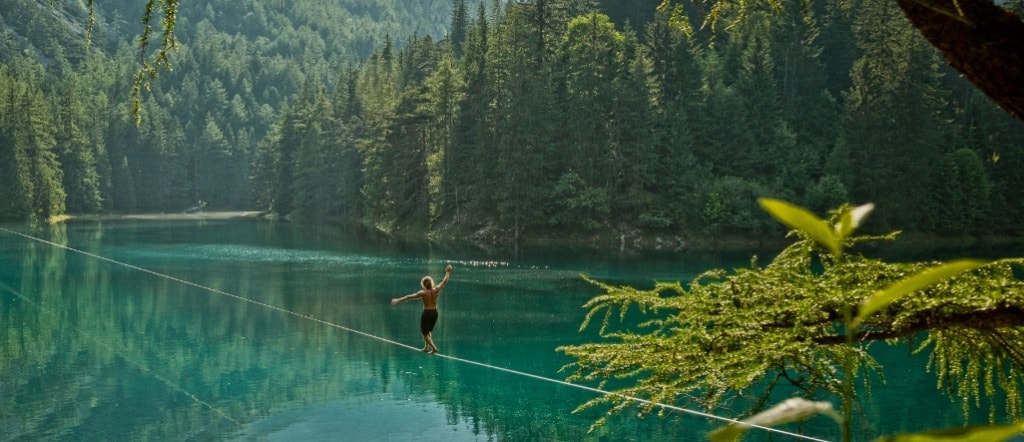 An appreciation for nature has always a very important issue for me because I think as much diversity as possible should be maintained. In the natural world, there is always a reason for things, for example one microscopic form of life exists in order to keep a whole cycle going. In the world of people, this is unfortunately more and more unseen…the excessive consumption and expenditure of non-renewable resources has shocked me every time I spend time in the United States. It really gets you thinking. That's one reason that I don't always find it easy to accept American culture. I did find a way to get back to nature on the weekends while I was taking an English course in northern California. Yosemite National Park was truly playground for the senses where I had some time alone to check out climbing Highline and Bigwall – that's off the beaten track from all the tourist activity. You just cannot compare the size of that park with the size of natural areas here in Austria, though both offer big rock walls as well as mountain ranges.
Our local mountains do have a magic for me because you can be utterly alone in some places. Apart from that, I didn't notice anything that changed that way I live. For me the American mentality is still not really comparable with the ins and outs of the way Austrians see things. That's way I enjoy being a guest in another country, adapting to to living there for a while, and then coming back to our amazing country again.
Every moment in which I find fulfillment in whatever I'm doing is what shapes my reality.
Have there been times when you almost gave up but stuck with it anyway? If yes, why did you keep at it?
There have been so many breathtaking moments in my life, times in which I had the chance to experience the shifting will of the mountain! I like to talk about that now when I give presentations, and also about my own internal driving force. For example when climbing in alpine areas, one has to rely a lot on intuition and experience. When climbing without a rope and a parachute on your back instead, as I said there's an enormous amount of work in terms of logistical planning to make it all happen. Also for walking highlines without a safety line , I've always relied on my gut feeling and learned everything in a step-by-step way. For every world record in slacklining, the power of doing something new was what gave me that extra push. It's what allowed me to maintain a rational flow of thought on the edge of what's humanly possible. All of these successful projects have come together and become a concentrated driving force that is now a deep part of me, so much so that I don't like to think about giving up. That only drains my energy. Even in the most difficult moments, I try to overwhelm any negative thoughts with positive thoughts. That's what keeps me balanced.
What have you learned for yourself personally from your slacklining adventures? Do these things help you in everyday life?
Every moment in which I find fulfillment in whatever I'm doing is what shapes my reality. Therefor my ceaselessly active way of living and slacklining has become a part of me, and there is seldom a daily routine in my life. If I do end up with a routine for a while, I find contentment in what I have.
You're also a motivational coach. What is the most important principle that you would like bring to people?
Be content. Live every moment.
What are your next adventures?
Having fun in movement: rediscovering myself again and again and travelling with the sun.