Unicycle and Challenges: Interview with Gerald Rosenkranz
The youthful  unicyclist Gerald Rosenkranz has already achieved a lot of success. In addition to his numerous championship titles, he also reached third place in the 2014 world championship as well as in the 2016 world championship. In this interview, you'll find out about how he started unicycling, what challenges he's had to overcome on the path to success and what motivates this Austrian athlete.
How did you discover your passion for bicycling?
I felt good on a bike since a very early age. I can even still remember clearly the first time I rode without training wheels. When I was about 10 years old, I signed up with a mountain biking team after attending a course in Graz (Austria). I stuck with it and I rode a lot, both by myself and with the team. One thing lead to another: at about the same time I participated my first race, I also started learning to ride a unicycle.
The right goals take you to the next level – you only move forward and achieve new things by setting the right goals.
How did you even come up with the idea to ride a unicycle?
Every unicyclist has their own story about how they got into unicycling. My father had a lot of frequent flyer miles left over, so he used some of them to buy a unicycle for me as an Easter present. After a week of practicing, I could more or less ride okay. It wasn't really so hard for me because I generally pick up things related to physical coordination pretty easily. I also learned in stages: first I learned to ride across a slope , then I learned how to ride uphill. I also started to connect unicycling with other kinds of riding while exchanging my experience with others. Further, I was looking for inspiration, for example there was a video on YouTube that showed someone on a unicycle jumping up onto a table tennis table. I was sure that I wanted to learn to do that too, and I made overcoming that challenge into a goal for myself. Now I've mastered it myself!
You have a lot of titles under your belt – how do you handle both successful outcomes and setbacks?
Luckily I've been spared setbacks until now. I would consider a setback to be something like a bad injury or family problems. Ups and downs are really completely normal. You just take them in and learn from them. In contrast, handling success is another thing completely. In my opinion, success is a double-edged sword: successes automatically make one feel better, but I don't want to get hung up on success or brag about the success I've achieved. I'm proud of what I have accomplished, but it's not me to show off.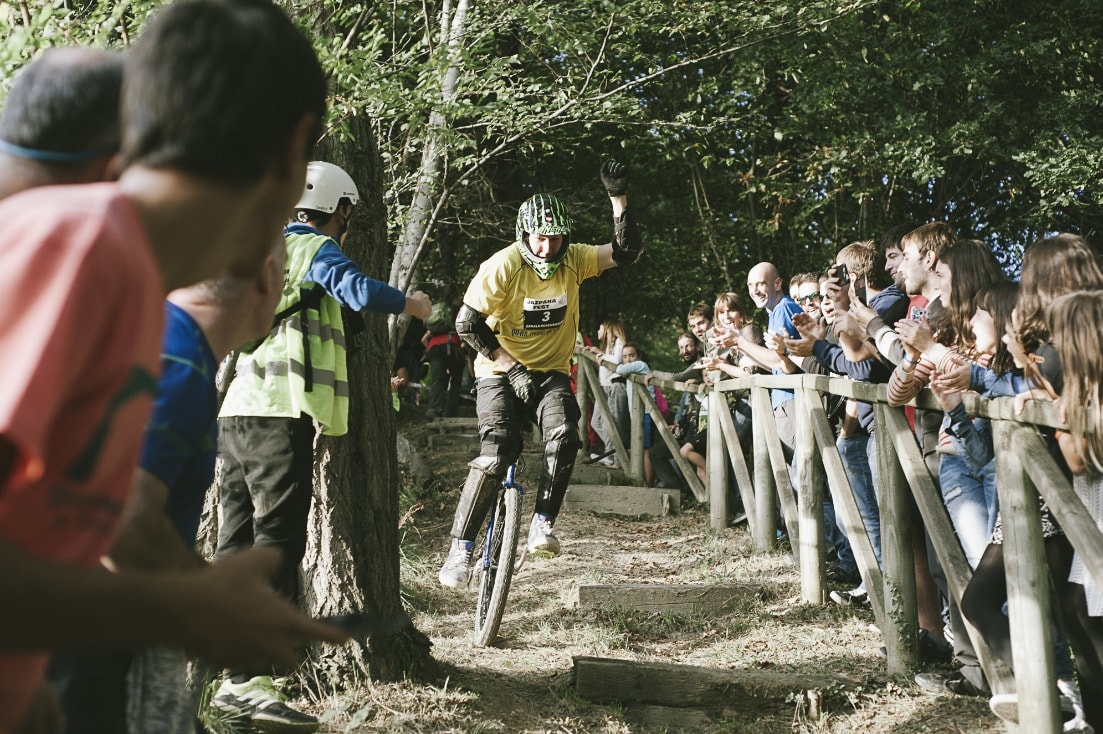 How important are goals for you?
The right goals take you to the next level – you only move forward and achieve new things by setting the right goals. It's rare for me to just have one goal, instead I go after several goals at the same time. Right now, in addition to my training I'm working on my master's thesis. Another goal I have is posting a YouTube video that gets a million clicks. To make that happen, next year I'm going to work with a Canadian named Ryan Kremsater – he's already made some amazing videos.
Why do you like taking on challenges so much?
It's my firm belief that one grows through challenge. (Note: See the motivational quote from January 2016) If you do reach a goal and overcome a challenge, it sets other things in motion. You see that getting things done frees up more energy for more goals. Once I accomplished something, I think to myself "yeah, that works" and then I set another goal for myself.
Something inside told me that I had to stick with it and prove to myself that I could do it.
Have there been moments when you almost gave up? What kept you going?
It was especially frustrating when I just started out because as a young unicycle rider, I was often looked at with a skeptical grin and not taken seriously. There were a few moments that I really had to fight. I was alone and I didn't have any friends who also unicycled. I was frequently laughed at and sometimes even insulted, and that was a pretty low blow because at the time I was about to give up. Still, something inside told me that I had to stick with it and prove to myself that I could do it. The good thing is that I learned that what other people think and say is not so important to me. Now I do just do it for myself and I'm proud of myself. In the time since, I've gained a lot of respect so such things don't happen to me anymore. The sport is also growing, and likewise respect for Unicyclers.
Do you have any tips for beginners?
When one wants to learn to be able to unicycle, one has to practice, practice, practice. Some people need two hours, some people need two days and some need two weeks or longer to be able to ride a unicycle. You have to buckle down and stick with it.
What are some of your other goals and projects?
Aside from the video that I already mentioned, becoming world champion is one of my biggest goals. Currently I am "only" third, still I train all the time and I'm always looking for new challenges. The last big challenge was the Dolomite Mountains – that was almost impossible. You climb 1,500 meters in elevation, and with the unicycle I only have one gear. I really had to fight with the level physical exertion – it's another challenge I overcame!